PRM's Soil Biology Solution

Improve Plant Health
PRM's biology makes nutrients in the soil more bioavaliable, and accessible to plants. This leads to heartier, more tolerant plant life.
Save Water
Healthier soil leads to more water retention, which means you spend less money and time watering.

Reduce Pesticides
Stellar soil biology means stronger plants, which means less time and money spent on pesticides.
"Since we began in 2017, PRM has helped us exceed PGA Tour quality expectations and achieve better turf conditions each year."
Joe Aholt
Superintendent, Hillcrest Country Club
Case Study: The Valley Club of Montecito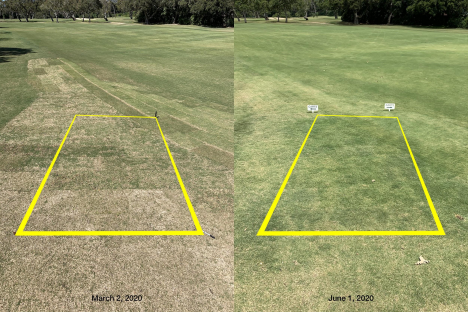 PRM's three month trial at the Valley Club of Montecito shows the power of our service. Over three months of PRM usage, and:
Substantially reduced compaction and thatch
Improving turf quality and drainage
Recovery time was reduced significantly, reflected in member feedback
Over 20 club members gave unsolicited positive feedback about the fairway using PRM when compared its pre-PRM performance or other control fairways on the course
For Agriculture and Farms
Our soil biology will have a great impact on your crops:
Save water
Save pesticides
Reduce labor costs
Healthier crops
Larger yields
Faster growth
For Sports Fields and Turf
 Our soil biology will greatly impact your sports turf:
Reduced soil compaction allowing for greater water retention
Hardier turf that recovers faster
Improvements in turf density and color
Soil "black layer" eliminated
For Golf Courses
For golf courses, we offer several key improvements:
Improve playing conditions

Save water 

Reduce fertility inputs

Buffer salts

Reduce your environmental footprint
Let us help you
Schedule a meeting or drop us a line at our email – we'd love to talk about what we can do for the issues specific to your plant life.